What about models versus reality?
Breeze up sales 2021 – Expected vs Obtained.
Have we tested this in reality? Yes, you probably already saw that on our video at the beginning of this page. Results are better than what we mentioned because we used a more demanding threshold and combined the models. During May 2021 we posted our picks for a group of breeze ups (Twitter and Instagram). Average amount of SWs (Stakes Winners) on those auctions was 1.5% (pretty low) and our selection went to 11.5% only in one season. Some winners didn't even run stakes races, so those numbers will improve. That means that in our first big test in reality, we delivered at least +650% in chances.
You can go to news and see some of the nice horses we recommended: Maglev, Gis a Sub, Papa Don't Preach, Lucky Girl and other winners that will keep running through 2022 and 2023.
Let's look in particular at the 2021 Goffs Breeze Up Sales. We posted this on Twitter, 5 days before the auction without seeing any of the horses. In fact, we used 3 models, not the 6 available now.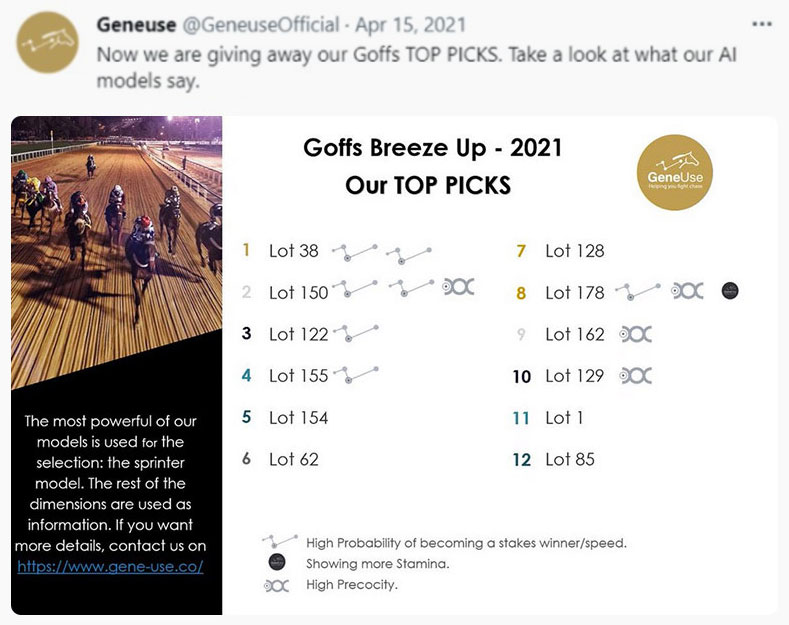 Lots 122, 178 and 122 have ORs over 100. In addition, 38 and 150 have 87 and 79 in timeform respectively.
As you can see, the

symbol meant those horses had more chances. Of the 5 marked with at least one symbol, 2 are over 100 OR: 40%! Which is the chance of that happening just by chance at an auction with 3% Stakes Winners? That can be answered again by choosing randomly 5 horses thousands of times (Bootstrap). The answer is 0.36%! So, yes, we were not lucky.
We have also made recommendations for Tattersalls Books 1 and 2 in 2021 and the Goffs Orby sale. We believe we will get really interesting numbers there. You will see the results in news when we get them.
If you want to know how to make and test a report, this video explains it.