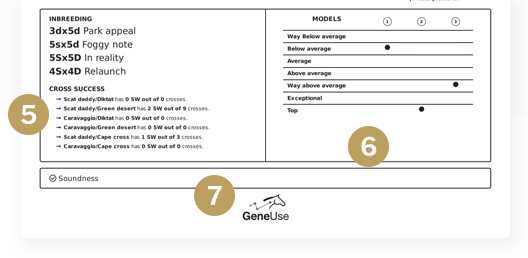 Models vs Combined Score
As the combined score looks into the models, you can find combinations:
1st quadrant: models and combined score rating high. Recommended ones.
2nd quadrant: only combined score rating high. Still worth paying attention to them.
3rd quadrant: only models rating high. In this quadrant is where we started and where we have proven success.
4th quadrant: all indications above average or worse. Not recommended.
Inbreeding and Crosses
Here you have inbreeding according to standard notation and amount of Stakes winners vs amount of times this crosses have been seen for the six different combinations between: Sire/Gransire vs Broodmare Sire/Broodmare Sire's Sire/2nd Dam's Sire.
The Models Results
Here you can find a simplification of what each of the models is perceiving. It has been converted into something comprehensible. GeneUse recommends to take special attention to horses rating top on one of the models or rating exceptional or more in more than one.
Extra
Below, you might find alarms for soundness and precocity. Those are only presented when a very high value is obtained. Otherwise, you will find it empty.